Beauty & Fashion
Ageless Makeup – A Guide for Mature Women to Look and Feel Their Best
As women embrace their golden years, their approach to makeup evolves. It focuses more on enhancing unique facial features and boosting confidence than just following beauty trends. This comprehensive guide to the best makeup for women over 50 is designed to navigate the world of cosmetics, offering tailored tips for mature skin. From nurturing skincare routines to selecting flattering colors, this article will empower women to embrace their natural looks and shun unwanted beauty standards.
Best Makeup Looks to Consider for Older Women
The "No-makeup" makeup look
The "no-makeup" makeup look has gained popularity as a timeless and effortless approach to makeup. It focuses on enhancing natural features while creating a flawless, minimal appearance. To achieve this look, start with a lightweight foundation or tinted moisturizer that matches your skin tone. Use a neutral eyeshadow palette to add subtle definition to the eyes, and opt for a lengthening mascara to open up the lashes. Finally, enhance the lips with a tinted lip balm or nude lipstick. The goal is to create a fresh-faced, natural look that allows your skin's true beauty to shine through.
Sheer and dewy glow
A sheer and dewy makeup look is perfect for women over 60 as it provides a youthful and radiant glow to the skin. Choose foundations or BB creams with light coverage and a dewy finish to give your complexion a luminous and hydrated appearance. Opt for cream/liquid blushes and highlighters to add a natural flush and subtle glow to the cheeks. And for a soft and plump lip, use tinted or clear lip glosses. The key is to embrace a fresh, dewy complexion that enhances your natural beauty.
Bold statement lips or eyes
Don't shy away from making a statement with different makeup products and techniques. Experiment with bold lip colors like rich reds, vibrant berries, or deep plums. Pair it with subtle eye makeup to keep the focus on your lips. Alternatively, play up your eyes with bold eyeshadow shades like metallics or jewel tones. A pop of color on the eyes can also create a striking look.
Expressive metallic and shimmering eyes
Metallic and shimmer shades can add depth and dimension to your makeup looks. Incorporate them into your eyeshadow choices; opt for shades like gold, bronze, or copper. Using these shades on the inner corners of the eyes or as a highlighter on the cheekbones can instantly brighten the face and add a touch of glam. While shimmery makeup can enhance your features, it's crucial to consider its effect on wrinkles, particularly around the eyes. Rather than going for an exaggerated and chunky look, a more flattering approach would be to apply a subtle shimmer on the eyelid to draw attention to your eyes.
When opting for bold and expressive makeup looks, it's important to strike a balance between elegance and drama. Choose one feature to highlight, either the eyes or the lips, and keep the rest of the makeup more subdued, soft, and neutral. This approach ensures a sophisticated overall appearance.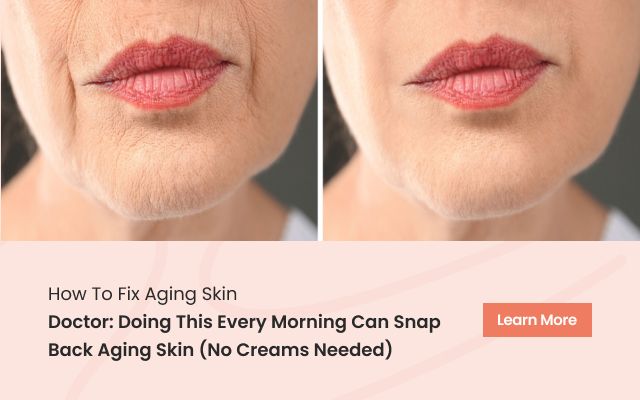 Best Makeup and Beauty Tips for Older Women
With just a few simple tips and tricks and the right techniques, women over 50 or 60 can effortlessly create flattering makeup looks for any occasion.
Use primer and avoid mixing oil and water
Start your makeup routine with a primer. This makeup product is designed to smoothen and hydrate the skin, leaving a plain canvas to layer other products. Look for primers with hydrating and blurring properties to minimize the appearance of pores and fine lines. For optimal makeup results, it is advisable to match the formulation of your primer and foundation. Opt for a water-based primer when using a water-based foundation, and choose an oil-based primer to complement an oil-based foundation. Mixing different formulas can lead to foundation separation and a heavy, cakey appearance on the skin. Moreover, even the application of finishing powder may not prevent makeup from sliding off your face.
Choose the right foundation
When it comes to selecting the foundation for mature skin, it's essential to consider a few key factors. To begin with, match your foundation shade to your skin tone and undertones to achieve a seamless and natural look. Look for lightweight formulas that provide coverage without settling into fine lines or emphasizing wrinkles. Additionally, opt for foundations that contain anti-aging ingredients such as peptides or hyaluronic acid, which can help hydrate and plump the skin. And when you're applying foundation, use a damp makeup sponge or a brush to achieve a smooth and even application. Focus on areas that require more coverage.
Use a concealer and corrector
To address under-eye circles and fine lines, choose a creamy concealer that is one to two shades lighter than your foundation. Gently dab it under the eyes, and blend it with your fingertips or a small brush. For color-correcting age spots or redness, utilize the color wheel concept. For example, green correctors can neutralize redness, while peach or salmon-toned correctors can counteract dark spots. Apply these color correctors sparingly to the targeted areas before layering your foundation and concealer.
Make a note of eyebrow shaping and filling techniques
Eyebrows frame the face and play a crucial role in enhancing the eyes. As we age, eyebrows tend to become sparse. Consider shaping and filling them using a soft brow pencil or powder. Use shades that match your natural hair color. Fill in any gaps with short, feathery strokes that mimic hair and softly define the shape. Aim for a natural, slightly fuller shape to lift the face and create a more youthful appearance.
Eyeshadow application for mature eyes
Opting for neutral-tone eyeshadows with satin or matte finishes can help you to avoid emphasizing fine lines or crepiness. Avoid harsh lines and opt for a smudged or smoky effect to create a softer and more flattering look. For a smooth eyeshadow application, gently blend the shade from the lid towards the crease, gradually lightening it towards the outer edge. Blend the colors well to achieve a soft, natural look.
Go easy on eyeliner and mascara
To make your eyes appear more vibrant, apply a thin line of brown or charcoal eyeliner along the upper lash line. Try not to elongate the line from the outer corner of the eye. For mascara, choose a lengthening or volumizing formula in brown or dark brown to define the lashes without overpowering the eyes. If you have deep-set eyes, use a nude or white kohl pencil on the waterline and finish it up with a coat of mascara. This will help open up your eyes, making it look bigger than usual. And for an extra touch of glam, consider using natural-looking false lashes to add volume and length to your lashes.
Choose the right blush shades
Blush adds a healthy glow and can help define the cheekbones. Select blush shades that complement your skin tone. Peach, rosy pinks, and coral shades can provide a youthful flush of color to the face. For fair skin, opt for soft pinks or peachy tones. If you have medium to dark skin, consider shades of coral or warm berry. Apply blush lightly to the apples of the cheeks and blend it out towards the temples for a natural look. Make sure you use a fluffy round brush for the application.
Pay attention to contour and highlight techniques
Contouring can add definition to your face, particularly around the cheekbones. Use a matte bronzer or contour powder in a shade or two darker than your skin tone. Apply it in the hollows of your cheeks, blending it upwards towards the temples and jawline to add structure to the face. Make sure you take tiny amounts on the brush— less is more. For highlighting, choose a luminous powder, cream, or liquid product. Apply it sparingly on the high points of your face, such as the cheekbones, brow bone, and the bridge of the nose, to add a luminous glow.
Create luscious lips
Begin by prepping the lips with a lip scrub or balm to exfoliate and hydrate. Once done, wait for a minute before you pick up the next lip product. When choosing lip colors, opt for shades that complement your skin tone and enhance your natural lip color. Neutral shades like mauve, warm pinks, rose, nude shades, or berry tones work well for most skin tones as they add a hint of warmth. Avoid dark or light shades, as they can make the lips appear smaller or wash out the complexion.
Along with the lip shades, the formulation also matters. Opt for creamy or satin finishes that provide moisture and minimize the appearance of fine lines. Stay away from matte lipsticks, as they are more likely to flake off and settle in the cracks. To define your lips, use a lip liner that matches your natural lip color or the lipstick shade. Start by outlining the lips and then fill in the entire lip area. Then go in with a coat of lipstick with a brush for precise application and a smooth finish.
Remember, ageless beauty is about feeling confident and embracing your unique features. Adapt these trends to your personal style and preferences, and most importantly, have fun with your makeup!
Proper Tools and Brushes for Mature Skin
Foundation brush or sponge
Opt for a foundation brush or a damp makeup sponge to apply your foundation. These tools allow for a more even and natural application, helping to minimize the appearance of fine lines and wrinkles.
Blending brush
Invest in a soft, fluffy blending brush for seamless blending of eyeshadow. This will help to create a softer, defined eye look.
Precision concealer brush
A small, precise concealer brush is essential for targeting specific areas of concern, such as dark circles or age spots. Choose a brush with soft bristles to ensure gentle application.
Translucent powder
Lightly dust a translucent powder over your T-zone and areas prone to oiliness to control shine. Avoid heavy powders, as they can settle into fine lines and make the skin appear dry.
Fluffy powder brush
Use a large, fluffy powder brush to lightly dust setting powder over your face. This helps to set your makeup and minimize shine without emphasizing dryness or texture.
Setting spray
After applying your makeup, spritz a good amount of setting spray over your face to help lock it in place. This will help your makeup last longer and stay fresh throughout the day.
Building an Effective Skincare Routine
A dedicated skincare routine can not only enhance the facial appearance but also foster self-care habits, boost confidence, uplift mood, and create an overall positive mindset for you.
Cleansing and exfoliation
These are two vital steps in the skincare routine for women over 50. A proper cleansing routine removes impurities, excess oil, and traces of makeup, promoting a clean and fresh complexion. Opt for a mild, non-irritating cleanser with natural ingredients that preserves the skin's natural oils and doesn't strip away moisture. As for exfoliation, it helps to slough off dead skin cells and promote cell turnover, leaving a brighter and smoother skin surface. Choose a gentle exfoliator specifically formulated for mature skin to avoid irritation. Also, clean your face twice daily, morning and night, and exfoliate once or twice a week. After cleansing and exfoliating, remember to moisturize. If you have sensitive skin, consult a dermatologist for suitable skincare products.
Moisturizing and hydration
The skin naturally becomes drier and loses its ability to retain moisture with age. So it's important to replenish the skin with suitable serums and moisturizers to retain moisture and improve the skin's hydration levels. It improves the skin's overall appearance and texture and helps reduce the visibility of fine lines, wrinkles, and age spots. Moreover, moisturizers can create a protective barrier that shields the skin from external aggressors and environmental damage. By incorporating moisturizing products into their skincare routine, women over 60 can effectively nourish and hydrate their skin, maintaining a healthy, radiant, and youthful glow.
Facial massage
Including a regular face massage in your skincare regimen can decrease fluid retention, tone tissues, improve blood flow, and increase collagen formation to preserve skin suppleness. You can gently massage your face by working from the jawline to the high points of the cheekbones, the under-eye area, and across the forehead a few times every day. Adopting this renewing strategy can help you maintain your skin's general health and vitality while promoting a young look. You can also use facial massaging tools like Gua Sha stone or Jade rollers.
Sun protection
As you age, your skin becomes more susceptible to sun damage and pigmentation issues. To combat these age-related skin problems, opt for a broad-spectrum sunscreen with a high SPF. It will shield your skin from harmful UV rays. Ensure thorough application on all exposed areas, including face, neck, arms, and hands. Also, reapply sunscreen every two hours, especially when outdoors and after a swim or workout session. Additionally, consider wearing protective clothing, such as wide-brimmed hats and sunglasses, and seek shade during peak sun hours to further safeguard your skin from premature aging and potential skin damage.
Home Hacks for an Instant Facial Glow
Caffeine for tired eyes
Due to weaker tissues and muscles, the sensitive region around the eyes can become puffy as you age. Applying a caffeine-infused eye cream or serum can instantly revitalize eyes that appear fatigued. Caffeine has tightening and de-puffing effects. Use the product sparingly; take a pea-sized amount and tap it lightly under the eyes with your ring finger. Slightly massage the area without added pressure.
Green tea or cucumber for puffy eyes
To naturally reduce puffy eyes, you can try several simple and effective remedies. One option is to splash your face with cold water, which helps constrict blood vessels and reduce swelling. Alternatively, you can place chilled cucumber slices on your eyes and leave them on for 10 to 15 minutes. Cucumbers have hydrating properties and contain vitamin C, which can help soothe and refresh the eye area. Another natural remedy is using green tea bags, which are rich in antioxidants. It helps reduce the appearance of dark circles.
DIY face masks
Create your own face masks using simple ingredients found in your kitchen. The following DIY face masks provide an instant boost of radiance and leave your skin feeling refreshed and revitalized.
Avocado masks

To nourish and hydrate your skin, try a mashed avocado mask or a yogurt and oatmeal blend. In case there is no yogurt, you can also make a mask out of avocado and oats. Avocados protect your skin against harmful sun rays and also tightens the skin. All you have to do is mash half an avocado in a bowl and mix one tablespoon of oats. Blend it well. Apply the mask evenly to your face, leave it on for 10-20 minutes, and then rinse it off gently.

Lemon and honey

Mix equal parts of honey and lemon juice and apply this mixture to your face. Leave it on for 15 minutes before rinsing off. This natural mixture works to brighten the skin, leaving it with a radiant glow.

Banana and rose water

Another effective and nourishing face mask is banana and rose water. Apply a mixture of one mashed banana with a teaspoon of rose water to your face and neck for a maximum of half an hour until it dries. Then rinse off and pat dry your face gently. This mask is rich in vitamins E and A and can give you a healthy glow and reduce spots that may appear with age, as well as pigmentation.

Turmeric face masks

Turmeric is a traditional ingredient used for ages in different ways. It has anti-inflammatory, antibacterial, and antioxidant properties which can help with acne, scars, and pigmentation. Regular use can also reduce the appearance of fine lines and wrinkles and relieve skin irritation. Turmeric can be used in a bunch of different masks. Combine one tablespoon of turmeric powder and three teaspoons of rose water in a bowl and apply the smooth paste with a gentle massage to brighten the skin. Alternatively, you can also use turmeric with yogurt and lemon juice for the reduction of wrinkles and pigmentation. You can substitute yogurt with honey or milk to give your skin the same moisturizing effect. Rinse all these masks with cold water and pat dry.

Aloe vera face mask

Another effective face mask to revitalize your skin is the Aloe vera face mask. Mix two tablespoons of Aloe vera extract with a few drops of lime juice and apply it evenly on your face. Leave the mask on for 10 minutes until it dries before taking it off. Using this mask daily can provide healing and rejuvenating effects, protecting collagen and preventing the appearance of wrinkles.
Embracing these natural skincare remedies can help older women maintain a youthful and radiant complexion.
Beauty sleep to repair skin
Never underestimate the power of a good night's sleep. During sleep, your body repairs and regenerates skin cells, leading to a refreshed and glowing complexion. Make sure to establish a consistent sleep-wake schedule and create a relaxing bedtime routine. Additionally, invest in a quality pillowcase made of silk or satin to prevent friction and reduce the risk of sleep lines and creases.
Optimal hydration
An important step to having healthy skin is to stay hydrated. Insufficient water intake can lead to lackluster skin that can accentuate wrinkles. Optimal hydration, on the other hand, promotes a supple complexion, enhancing skin elasticity and reducing the likelihood of dryness, irritations, and imperfections. Water also aids in flushing out toxins, which can contribute to clearer and healthier-looking skin. Doctors recommend a daily intake of 8 to 10 glasses of water. But this requirement may vary depending on your activity levels, health conditions, and overall physical well-being. So, you can consult your primary healthcare professional for personalized guidance on ways to optimize hydration.
Healthy lifestyle
The internal health of a body often reflects on the outside. And it is important for older women to pay attention to the type of foods they eat because optimal skin health goes beyond skin care and treatments. A properly nourished body is naturally more likely to repair faster and maintain skin vitality for a long time. Avoid eating processed foods and sugary snacks since these food items inflame the skin and accelerate skin aging. Instead, maintain a healthy, balanced diet with antioxidant-rich fruits and vegetables, omega-3 fatty acids from sources like fish and nuts, and collagen-boosting foods like bone broth and citrus fruits. These nutrient-dense foods will not only boost your skin health but also ensure overall physical well-being.