Beauty & Fashion
10 Best Organic Anti-Aging Skincare Products for Youthful-Looking Skin
Are you overwhelmed by all the anti-aging skincare options, especially when leaning towards a natural approach? You're not alone.
Over the last several years, the beauty industry has expanded skincare options to meet the demand for natural products. More people are now aware of the benefits of organic solutions.1 They're looking for natural skincare options that help reduce signs of aging and work for various skin conditions.
Rest assured, we've crafted this guide with you in mind. It offers evidence-based, natural solutions for your anti-aging skincare journey.
This article will show why organic is superior, provide in-depth product reviews, and explore do-it-yourself (DIY) options using natural ingredients.
Why Organic Anti-Aging Skincare Matters
The skincare products you use matter, especially as you get older. Some conventional products mask harmful chemicals with enticing claims and packaging.
Common chemicals found in skincare products that compromise your skin's natural balance and resilience include:
parabens
sulfates
synthetic fragrances
preservatives
Benefits of Organic Anti-Aging Skincare
So why is organic skincare better? Organic products are made using naturally derived ingredients2 that work with your skin. They intentionally leave out harmful chemicals. This gives natural skincare products a milder, more nurturing approach to giving you youthful and radiant skin.
Organic skincare is not just about looking good; it's about promoting overall skin health. The natural compounds in organic products give your skin the nutrients and hydration it needs.
Top Organic Anti-Aging Skincare Ingredients
Incorporating organic anti-aging skincare ingredients into your skincare routine makes a difference in the appearance and health of your skin. Their natural, science-backed benefits work to combat signs of aging.
Here are five organic anti-aging ingredients proven to benefit your skin:
Retinol
Retinol, derived from vitamin A, is known for its potent anti-aging properties.3 Retinol works by stimulating collagen production and smoothing fine lines and wrinkles. It also helps in cell turnover, promoting a smoother and more even skin texture.
Vitamin C
Vitamin C4 is an antioxidant that brightens dull skin, fades dark spots, and promotes collagen production. Organic sources of vitamin C enhance the skin's natural resilience. Manufacturers often combine vitamin C with vitamin E5 to revitalize the skin naturally.
Hyaluronic Acid
This natural hydrator6 attracts and retains moisture in your skin. It helps to plump fine lines and increase your skin's firmness. This ingredient leaves your skin looking supple and rejuvenated.
Collagen
As the building block of healthy skin, collagen maintains your skin's elasticity and firmness.7 When applied topically, it helps replenish lost collagen, improving skin texture and reducing sagging.
Antioxidants
Antioxidants work to treat oxidative stress,8 a major contributor to premature aging. Common antioxidants include green tea extract, vitamin E, and resveratrol.
Best Organic Skincare Brands for Aging Skin
Now that you understand the importance of organic skincare and the top organic anti-aging ingredients, what are the best anti-aging organic skincare products on the market? Let's explore our curated lists.
Cleansers
Drunk Elephant's Beste No. 9 Jelly Cleanser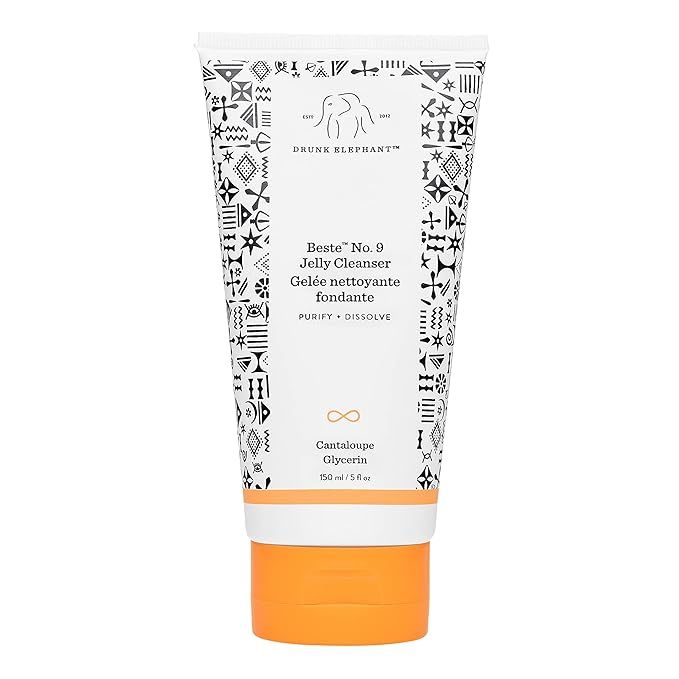 Drunk Elephant's Beste No. 9 Jelly Cleanser is a gentle yet effective cleanser that removes pollution, makeup, and excess oil without stripping the skin. The manufacturer infused this cleanser with nourishing pure marula oil, potent antioxidants, and mild cleansers like coconut-derived surfactants, glycerin, and cantaloupe fruit extract.
Price: $34 for 5 oz.
Cocokind Organic Facial Cleansing Oil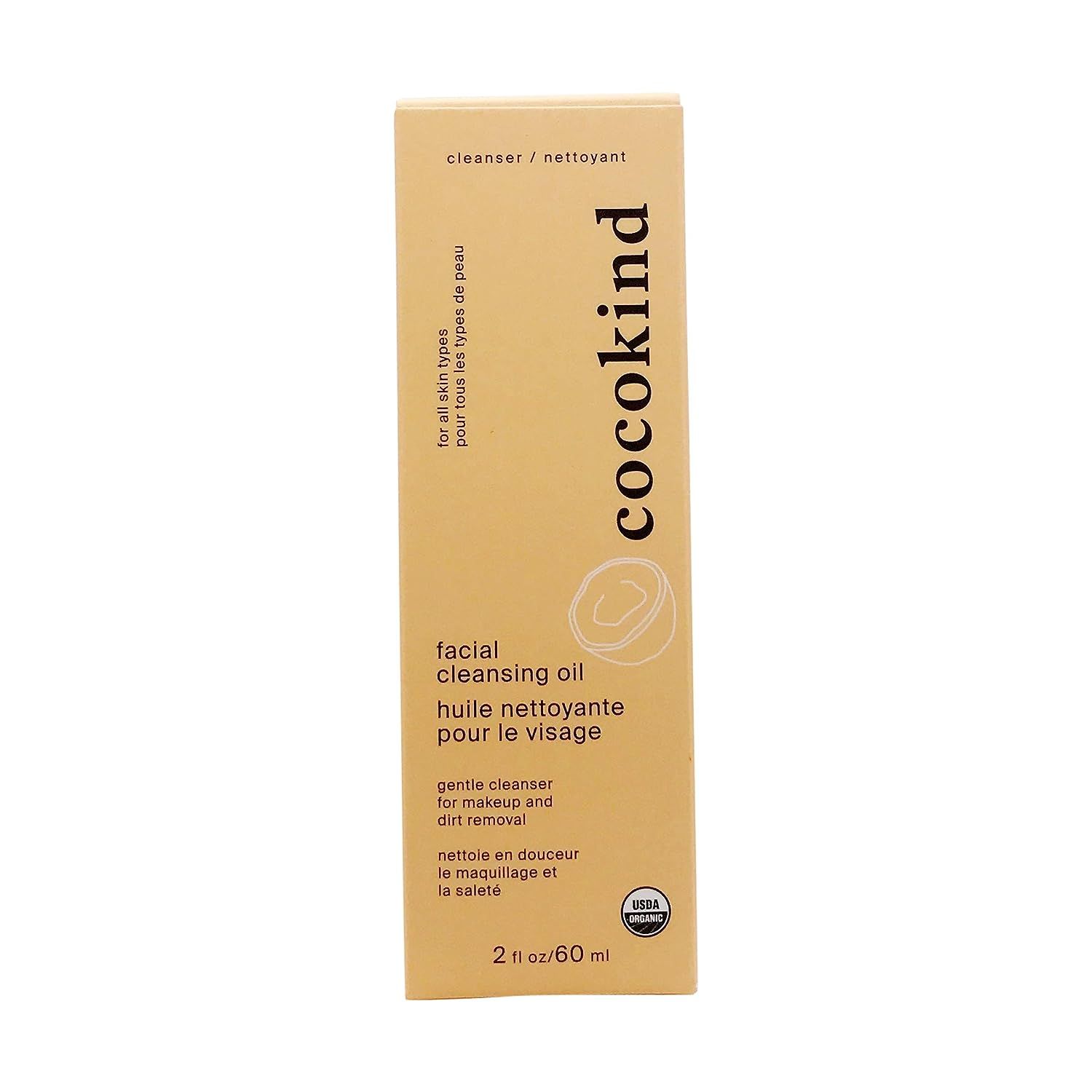 Cocokind Organic Facial Cleansing Oil is an affordable option that cleanses and nourishes the skin using organic avocado and tea tree oils. It removes makeup, dirt, and other impurities without compromising your skin's moisture or pH.
Price: $17 for 2 oz.
Moisturizers
ilike Hyaluronic Time Erase Complex Moisturizer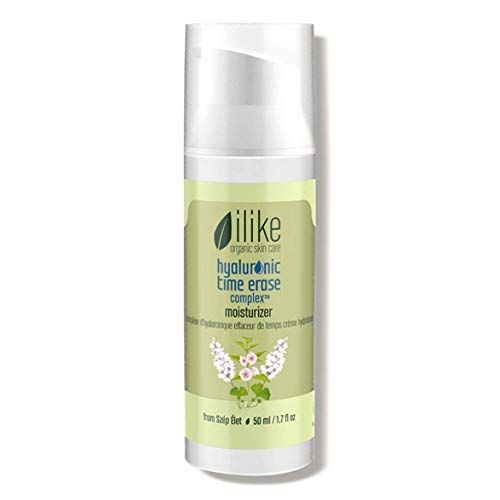 The ilike Hyaluronic Time Erase Complex Moisturizer contains hyaluronic acid that locks in moisture and provides anti-aging benefits. The light texture absorbs quickly and is gentle on sensitive skin.
Price: $89 for 1.7 oz.
Juice Beauty STEM CELLULAR Anti-Wrinkle Moisturizer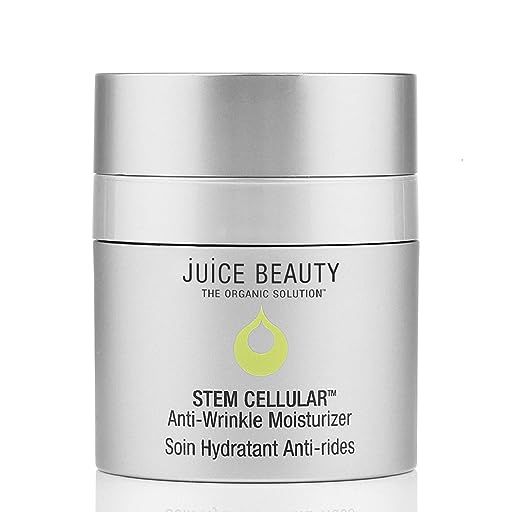 Juice Beauty STEM CELLULAR Anti-Wrinkle Moisturizer combines ingredients like vitamin C and resveratrol-rich grapeseed with organic fruit stem cells to moisturize your skin. This unique combination helps reduce fine lines and wrinkles.
Price: $63 for 1.7 oz.
Serums
Beautycounter All Bright C Serum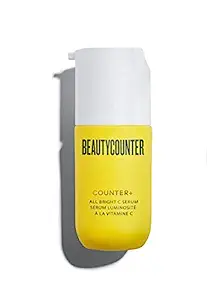 Beautycounter All Bright C Serum combines two forms of vitamin C with camu camu and turmeric. It protects your skin from environmental exposures and decreases signs of aging. You'll notice a decrease in dark spots and a brighter tone over time.
Price: $99 for 5 oz.
Pai Skincare Rosehip BioRegenerate Oil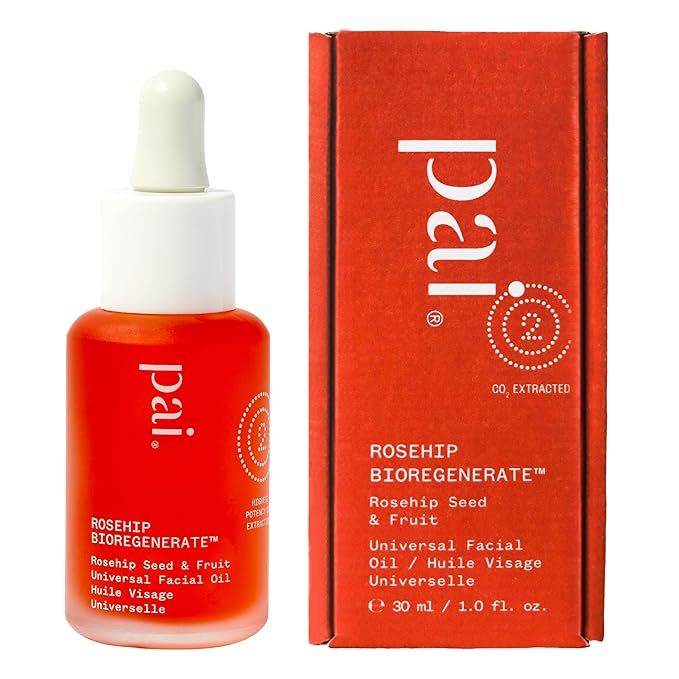 Pai Skincare Rosehip BioRegenerate Oil contains rosehip fruit and seed extract with high levels of trans-retinoic acid, a natural form of vitamin A. It helps to improve your skin's tone and texture while decreasing the appearance of fine lines.
Price: $43 for 1 oz.
Eye Creams
True Botanicals Chebula Extreme Cream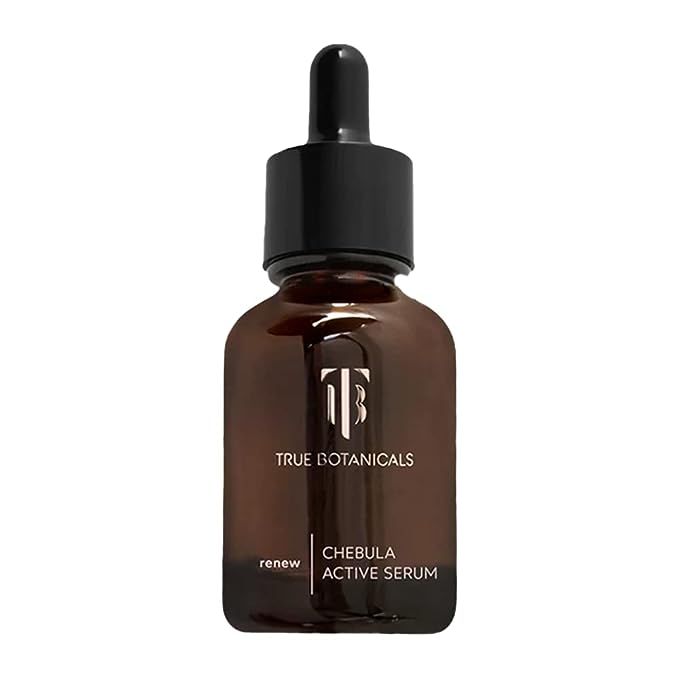 True Botanicals Chebula Extreme Cream nourishes and rejuvenates your skin using ingredients like vitamin C, elderberry, and ginger. This cream targets signs of aging, such as fine lines, wrinkles, and a loss of elasticity.
Price: $90 for 1 oz.
100% Pure Coffee Bean Caffeine Eye Cream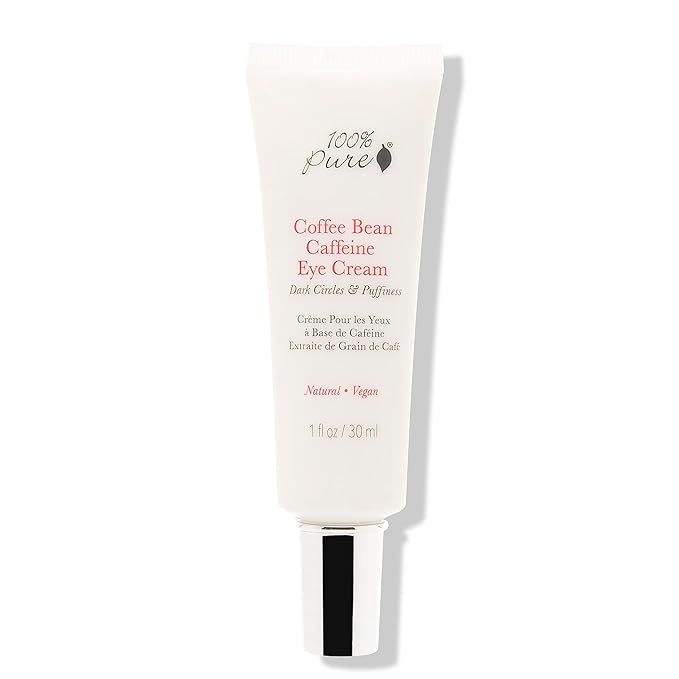 100% Pure Coffee Bean Caffeine Eye Cream infuses coffee bean extract and green tea to reduce puffiness and dark circles around your eyes. Other anti-aging benefits include stimulating collagen production and antioxidant protection using vitamins C & E.
Price: $29 for 1 oz.
Sunscreens
Pestlo SafeRecipe Sun Essence SPF 50
Pestlo SafeRecipe Sun Essence SPF 50 combines zinc oxide and ceramides, protecting your skin from the sun and soothing irritated skin. Its silky texture dries matte on your skin, giving it a natural finish.
Price: $18 for 1.7 oz.
Saint Jane Beauty Luxury Sun Ritual Pore Smoothing SPF 30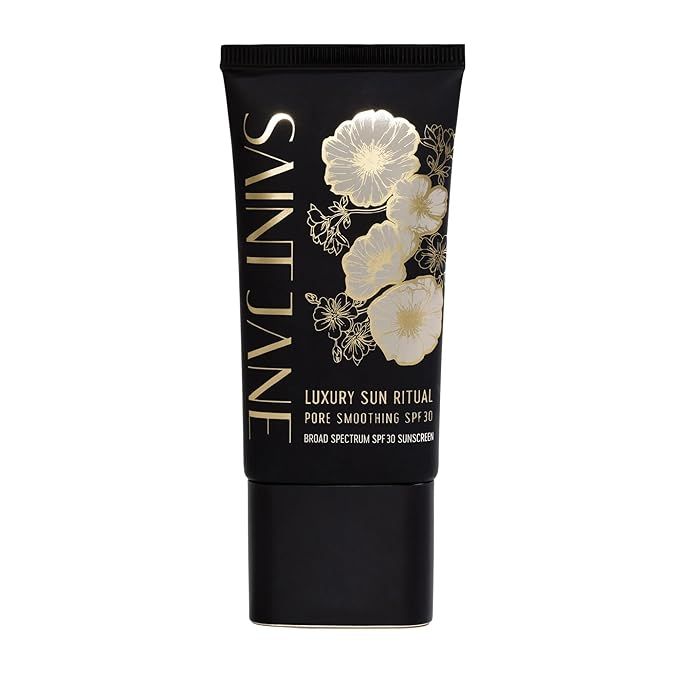 Saint Jane Beauty Luxury Sun Ritual Pore Smoothing SPF 30 smooths pores for an even look while providing sun protection. It combines green tea and other antioxidants with zinc oxide to prime and moisturize your skin.
Price: $38 for 1.7 oz.
DIY Organic Skincare Recipes
If you love a hands-on approach, creating organic anti-aging skincare products may be for you. We've gathered some simple yet powerful recipes for face masks, serums, and moisturizers that you can whip up in your home.
Organic Anti-Aging Face Masks
Avocado nourishes, while honey provides hydration and promotes a youthful glow.
Ingredients:
One ripe organic avocado
Two tablespoons of organic honey
Instructions:
Mash the avocado and mix it with honey.
Apply to your face for 15-20 minutes.
Rinse with warm water.
Turmeric and Yogurt Brightening Mask
Turmeric's anti-inflammatory properties and yogurt's lactic acid brighten and rejuvenate the skin.
Ingredients:
One teaspoon of organic turmeric powder
Two tablespoons of organic yogurt
Instructions:
Mix the turmeric and yogurt until smooth.
Apply evenly, and leave on for 10-15 minutes.
Rinse with lukewarm water.
Organic Serums
Rosehip Seed Oil and Frankincense Serum
This serum promotes collagen production and reduces the appearance of fine lines.
Ingredients:
One tablespoon of organic rosehip seed oil
Three drops of organic frankincense essential oil
Instructions:
Blend the oils and apply a few drops to your face after cleansing.
Gently massage it in.
Vitamin C and Aloe Vera Serum
This serum brightens and boosts antioxidants for youthful, radiant skin.
Ingredients:
One teaspoon of organic vitamin C powder
Two tablespoons of organic aloe vera gel
Instructions:
Mix well and apply a thin layer to your face.
Allow it to absorb before applying moisturizer.
Organic Moisturizers
Shea Butter and Lavender Moisturizer
Shea butter deeply moisturizes, while lavender soothes and rejuvenates.
Ingredients:
Two tablespoons of organic shea butter
Five drops of organic lavender essential oil
Instructions:
Melt the shea butter and mix in the lavender oil.
Allow it to cool and solidify.
Apply a small amount to your face as needed.
Coconut Oil and Green Tea Moisturizer
Coconut oil provides hydration, while green tea offers antioxidants for anti-aging benefits.
Ingredients:
Two tablespoons of organic coconut oil
One teaspoon of organic green tea leaves (or one green tea bag)
Instructions:
Mix coconut oil with green tea to infuse them together and strain.
Let it cool, and use it as a daily moisturizer.
Although these ingredients are natural, you'll want to do a patch test before using them to ensure they work for your skin type.
Challenges in Transitioning to Organic Skincare
Switching to organic skincare for aging skin doesn't come without challenges. Here are some common challenges you might face:
Finding a wide range of organic skincare products might be difficult, depending on where you live. The organic skincare market is still growing, so some skincare lines may not offer the same variety of products. However, with the rise in demand, many stores are now stocking a wider range of organic skincare options.
Organic skincare products tend to be more expensive compared to non-organic options. These organic options include concentrated ingredients that usually cost more and take longer to make. It helps to consider buying organic options to invest in your skin's health.
With the growing popularity of organic skincare, you may feel overwhelmed by the number of brands now available. Finding a brand you like and meets your standards will take time. Many brands offer sample sizes of their products, which could be a great way to determine if they work for you.
How to Overcome These Challenges
It's important to be patient and open-minded when switching to organic skincare. Make a note of how your skin responds to different products and ingredients.
Even though big box stores offer organic skincare products, you may find online and specialty stores focusing on organic options a better fit. Online reviews are a great way to get honest feedback on a product you want to try.
Lastly, talk to a dermatologist or skincare professional who can also provide guidance on which products are good options.
Frequently Asked Questions
How Soon Can I See the Results?
Results vary from person to person, but with consistent use, you can expect to notice improvements in a matter of weeks.
Are Organic Products Safe for All Skin Types?
Yes, organic products are generally well-tolerated by various skin types. However, patch-testing new products is an excellent way to rule out sensitivities.
What Certifications Should I Look For?
Look for certifications like "USDA Organic" or "Certified Organic" to ensure the product meets strict organic standards.
Takeaway
Each person's skin is unique, so what works for one person may not work for another. Switching to organic skincare products is a great way to avoid harsh chemicals, fragrances, and preservatives in skincare products.
Research shows organic skincare options are just as effective in fighting back against signs of aging. Many of the same anti-aging ingredients are used in organic skincare products.
Although organic skincare can be pricey, you're investing in the future of your skin. Try some DIY organic skincare recipes in this article to save money.
Overall, as your skin changes, your skincare routine may need to change too. When making this change, consider organic options that meet your needs. Before trying a new product, speak with your dermatologist or skin care specialist for help choosing a safe and effective option.
References